The MLS Fairytale: Sporting Kansas City and Their Epic Journey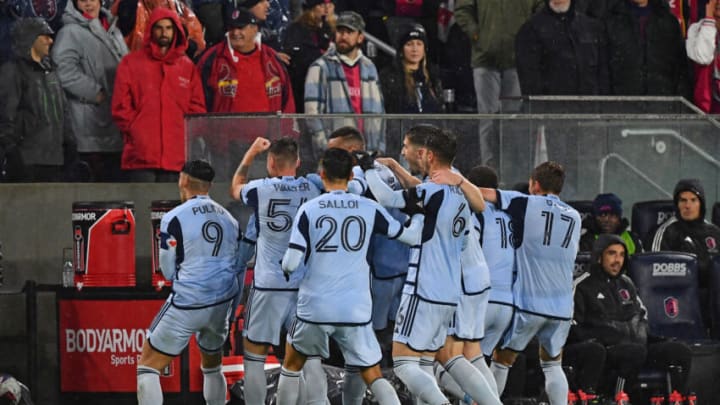 ST. LOUIS, MO - OCTOBER 29: Sporting KC players celebrate a goal during game One of the First Round of Playoffs between Sporting Kansas City and St. Louis City SC at CITYPARK on October 29, 2023 in St. Louis, Missouri. (Photo by Bill Barrett/ISI Photos/Getty Images) /
The world of soccer is often filled with inspiring stories of resilience, dedication, and passion. One of these captivating stories is being written by Sporting Kansas City in the current Major League Soccer (MLS) season. The club, which started the season tentatively and faced seemingly insurmountable challenges, now finds itself on an epic journey towards the Audi MLS Cup title.
Throughout this season, Sporting Kansas City has demonstrated impressive resilience. They not only made it to the playoffs but also exceeded expectations by taking down the top team in the Western Conference, St. Louis CITY SC, in a three-game series that showcased their determination and talent.
Follow MLS Multiplex on X (Twitter).
The coach and sporting director, Peter Vermes, personify the steadfast leadership that has guided this team. He never doubted the potential of his players, even when the team faced a string of early-season losses. The club not only rebounded but also stood out as one of the best in the Western Conference since May.
ST. LOUIS, MO – OCTOBER 29: Khiry Shelton #11 of Sporting Kansas City tries to control the ball during game One of the First Round of Playoffs between Sporting Kansas City and St. Louis City SC at CITYPARK on October 29, 2023 in St. Louis, Missouri. (Photo by Bill Barrett/ISI Photos/Getty Images) /
The relationship between the team and their fans has also played a significant role in this journey. Sporting Kansas City fans have shown unwavering loyalty, even when things weren't going well. This unity between the team and fans has created a family atmosphere that has become a fundamental foundation for the club's resurgence.
Now, Sporting Kansas City faces an even greater challenge as they will have to play all remaining matches on the road. However, the belief and determination that propelled the team this far continue to grow. They see themselves as underdogs determined to defy the odds and achieve greatness.
As we approach the final stages of the MLS, Sporting Kansas City's story is a reminder that in the world of soccer, it's not just about talent and tactics but also about passion, perseverance, and mutual support. Regardless of the final outcome, this team has already proven itself worthy of admiration and inspiration.
The Sporting Kansas City MLS fairytale is a story that makes us believe that in the world of soccer, the impossible can become possible. It's an epic journey that we will continue to follow with anticipation, hoping that this group of underdogs reaches the pinnacle of American soccer.