FC Cincinnati: A Historic Victory Worthy of Recognition and Celebration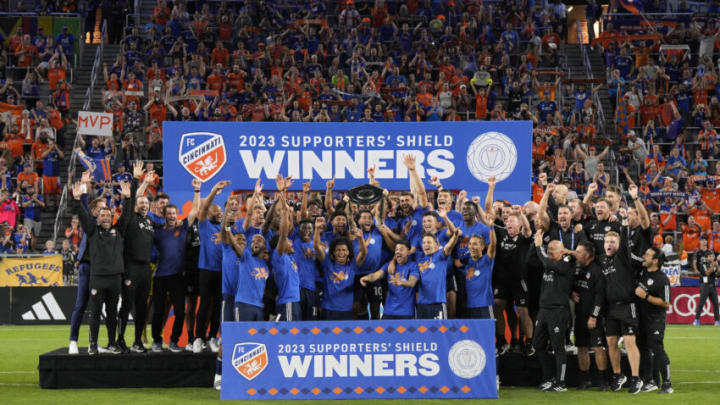 CINCINNATI, OHIO - OCTOBER 04: Luciano Acosta #10 of FC Cincinnati celebrates with teammates after receiving the Supporter's Shield following a MLS soccer match against the New York Red Bulls at TQL Stadium on October 04, 2023 in Cincinnati, Ohio. (Photo by Jeff Dean/Getty Images) /
FC Cincinnati achieved a historic feat on Wednesday night, lifting the Supporters' Shield in front of an enthusiastic crowd at TQL Stadium. This accomplishment not only marks the Orange and Blue's first trophy in Major League Soccer (MLS) but also represents a significant milestone in the evolution of this young team.
With 65 points, FC Cincinnati secured their lead in the MLS regular season, a testament to the hard work and dedication of players, coaches, and fans. This achievement reflects the club's commitment to building a competitive and high-performance team.
The moment of lifting the Supporters' Shield trophy at TQL Stadium, in front of a crowd of 25,513 people, is one of those memorable instances that will linger in the memories of players and fans forever. FC Cincinnati's coach, Pat Noonan, perfectly captured the significance of this moment by stating that "it's moments like this" that make all the effort and dedication involved in soccer worthwhile.
CINCINNATI, OHIO – OCTOBER 04: Luciano Acosta #10 of FC Cincinnati celebrates with teammates after receiving the Supporter's Shield following a MLS soccer match against the New York Red Bulls at TQL Stadium on October 04, 2023 in Cincinnati, Ohio. (Photo by Jeff Dean/Getty Images) /
However, despite the celebration and the euphoria of the victory, FC Cincinnati faced a 2-1 defeat to the New York Red Bulls. This serves as a reminder that sports can be unpredictable and challenging, but it doesn't diminish the grandeur of the Supporters' Shield achievement. Furthermore, the brilliant performance of Luciano Acosta deserves special mention. With 16 goals this season, Acosta is leading the race for the Golden Boot, a remarkable feat that further elevates FC Cincinnati's status.
The decision to make several lineup changes after winning the title demonstrates the team's strategic vision and commitment to preparing for the upcoming challenges, such as the Audi MLS Cup Playoffs.
FC Cincinnati's victory in the Supporters' Shield is a historic achievement deserving of recognition and celebration. It is a testament to the hard work and dedication of everyone involved with the club and undoubtedly a source of pride for the Cincinnati community. As the team advances to the Audi MLS Cup Playoffs, excitement and hope for more successes are stronger than ever.