Austin FC 0-2 Chicago Fire: Chicago advances to the quarterfinals of the U.S. Open Cup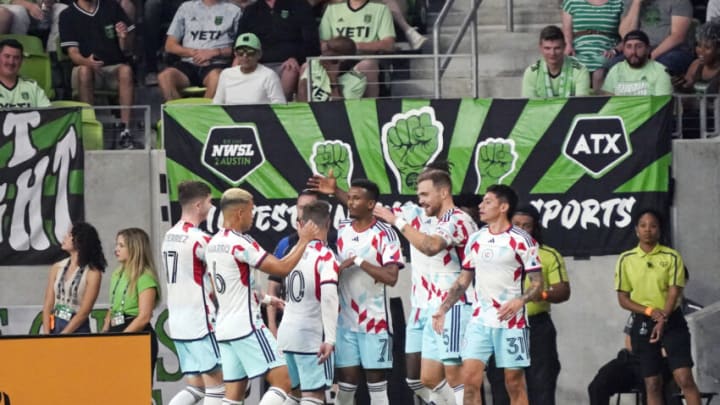 May 24, 2023; Austin, TX, USA; Chicago Fire players celebrate after a goal scored by defender Rafael Czichos (5) during the first half against Austin FC at Q2 Stadium. Mandatory Credit: Scott Wachter-USA TODAY Sports /
The Chicago Fire advanced to the quarterfinals of the U.S. Open Cup on Wednesday night as they beat Austin FC 2-0 at Q2 Stadium.
It wasn't the most thrilling of contests, but Chicago took the chances they created on the night, and that proved to be the difference when all was said and done. Rafael Czichos put them in front midway through the first half, and then a tap-in from Kacper Przybyłko with 10 minutes to go all but sealed the victory.
What happened
The hosts nearly opened the scoring in the first few minutes. They were awarded a free-kick on the edge of the area, and Emiliano Rigoni's effort looked good, but it flew just wide of the target.
Chicago had their first big chance a bit before the half hour mark. A lovely through ball from Xherdan Shaqiri slipped in Maren Haile-Selassie, but his strike from a tight angle was saved by the goalkeeper.
They got another opportunity from the following corner, and they converted at the second time of asking. It was all too easy, as Rafael Czichos won an aerial duel at the back post, and his header looped over the keeper and into the back of the net.
Those may have been the only real openings, but that doesn't mean the first half was a bore. Each side had stretches with the ball, and there could've been more action if things went a little differently.
Austin came out with urgency to start the second half, and they had a good chance to level the scoring early on. A corner flew all the way to Gyasi Zardes at the far post, and he was in space, but his tame header went right to the goalkeeper.
They had another chance right after, with this one coming from a corner as well. Substitute Aleksandar Radovanović made much better contact with his headed attempt, but he couldn't get it on frame, with the ball flying over the crossbar.
Not much happened for a bit, but then the Fire nearly doubled their advantage with 15 minutes to go. Another brilliant pass from Shaqiri picked out the run of Jairo Torres, who had just come off the bench. He did well to cut inside and get a shot off, but his effort was denied by the post.
Just like earlier they had a chance to redeem themselves, and once again they did exactly that. Shaqiri snuck behind the backline and got a shot off from close distance that was saved by the goalkeeper. However, the rebound fell right back to him, and he made the most of the break by setting up Kacper Przybyłko for a simple tap-in.
The home side tried to pull off a late comeback, and they did force a pair of important reflex saves out of Spencer Richey. That was all they could really muster, though, and Chicago ultimately held on to the win with ease.
What it means
This showing was another disappointing one for Austin. They've been a far cry from the side that lit up MLS last season, and it was more of the same on this night from them, which was especially poor considering the circumstances of the contest and the crowd in attendance.
This win is a huge one for Chicago. They've historically valued the Open Cup a ton, and it's clear that they've put a major emphasis on it this campaign. That's why they keep naming such a strong lineup for these games. They've still got a long way to go, but there's a real chance they actually could win the competition after all.
Notes and observations
It was nice to have this contest livestreamed on free on Youtube. That made it very easy to watch and easy to have others tune in to proceedings.
Chicago's whole away kit ensemble is so nice, and it still looks nice without a sponsor.
The Fire went with a first-choice starting lineup, but they did stick with cup keeper Spencer Richey, which was nice to see. He's a solid backup, and he deserves to start some games, even if they're not in MLS.
Rafael Czichos is already a superb defender, and when you add his goalscoring threat off set-pieces, you get one of the most valuable players in the entire country. He's been immense for Chicago ever since joining at the start of last year, and the club are lucky to have him as captain.
Austin simply didn't show up for this contest. Despite being in front of a solid crowd in a knockout cup contest, they didn't really display any real drive or desire to advance. It was a performance that epitomized their struggles this season, and something has to change soon if they want to hit the heights they did last time around.
Xherdan Shaqiri was used in a different role, playing much deeper than usual. That allowed him to get on the ball early and often, and once he was in possession, he was able to find his teammates with some quality passes. Time will tell if he stays there, but the early signs were promising.
Frank Klopas might genuinely be magic. This Fire roster is still quite flawed, but he just keeps getting results out of them. If he manages to win this whole thing as an interim then it'll be one of the best stories in American soccer in years.
Man of the match – Rafael Czichos
A goal, a clean sheet, and a win is the dream for every centerback, and on this night that dream was a reality for Rafael Czichos.
His goal was a very well-taken one, as he rose highest from a corner, and he expertly headed the ball up and over the goalkeeper. The defender didn't have much to do at the back, but he did kill off any Austin attack before they got the chance to get going, keeping them quiet almost all night.
It was another strong showing from Czichos, which is exactly what Fire fans have come to expect out of him.