NYCFC select Canadian Malcolm Johnston in 2023 SuperDraft
If he's anything like his brother, Malcolm Johnston will have a very short career in Major League Soccer.
Drafted 11th by Nashville FC in 2020, Malcolm's brother Alistair quickly made his way through the ranks in MLS, getting traded to Montreal in 2021 and now set to play for Celtic in the Scottish Premier League.
Alistair had impressed in games leading up to the World Cup and had a strong tournament for Team Canada. Now he's on his way to Europe.
On Wednesday December 21st, Malcolm was drafted NYCFC with the 26th pick in the SuperDraft. Johnston spent the last four years moving around the midfield playing for the University of Maryland.
NYCFC drafted Malcolm Johnston 26th in the 2023 MLS SuperDraft
Similar to his brother, Johnston has quickness on and off the ball, which helped him to a prolific career at Maryland where he tallied 14 goals and 13 assists while serving as team captain the last two years.
Johnston primarily plays central midfield and the number 10 role. His speed allows him to play off the wing, but Maryland primarily used him in midfield. NYCFC can use some extra competition in midfield to push players such as Nicolas Acevedo, Maxi Moralez, Keaton Parks and others.
"He's calm, he's skilful and he's versatile," said Maryland Terapins coach Sasho Cirovski in an interview with The Diamondback News. "He's a cool cat."
In addition to Johnston, NYCFC added forwards Braudilio Rodrigues from Franklin Pierce, as well as Matthew Myers from Rutgers in the second round. Myers was selected to the All-Big South First Team, where he scored 13 goals in his 2022 campaign.
Standing over 6′ tall, Rodrigues gives NYCFC forward group some size. While he plays in mostly the number 9 role, his skillset allows him to play both the wing and number 10 roles. He's a threat on set plays kicking or retrieving the ball.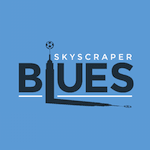 Want your voice heard? Join the Skyscraper Blues team!
Write for us!