United States national team: Way too many thoughts about a subpar night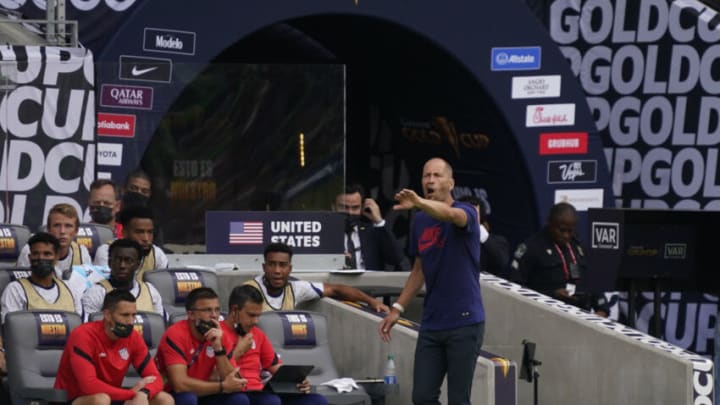 United States head coach Gregg Berhalter signals to players in the first half against Qatar in a Concacaf Gold Cup semifinal soccer match at Q2 Stadium. Mandatory Credit: Scott Wachter-USA TODAY Sports /
There is no way to sugarcoat it…the United States national team disappointed on Thursday night in a scoreless draw at El Salvador. And while it wasn't a disastrous result, given that the memories of Couva remain fresh, it was not the ideal result with which to start World Cup qualifying.
In fact, the draw and the performance perhaps sped up ever so slightly the doomsday clock for this squad. Just simply because that is the nature of the business.
More from MLS Multiplex
The situation isn't dire – far from it considering that a road draw is still more of a positive than not. And El Salvador is a rising team under a fantastic head coach. But the United States national team looked lost and disjointed in this result and they needed more than this result to really, firmly erase the memories of the failure to qualify four years ago.
Simply put: this wasn't good enough.
Fourteen – yes 14 – thoughts from Thursday night's draw in El Salvador:
Being pragmatic – Perhaps the biggest disappointment from the match was that head coach Gregg Berhalter's squad just didn't have the scrap and fight to pull through and get three points. El Salvador is considered the weakest opponent in the hexagonal octagonal and a win would have gone a long way in helping to reestablish the national team's confidence (Nations League and Gold Cup are nice but these matches matter).
Defensively, the unit was fine but offensively, there was an alarming lack of composure and fluidity in the final third. That shouldn't be a shock given that this was a match, on the road, in CONCACAF. These matches often bog down. But the young kids didn't show the grit and fight that has often been seen over the years from less talented national teams. The lack of resolve to generate chances and simply not dribble into a wall of blue and white defenders was discouraging.
Adams is Adams – Tyler Adams was tremendous. He covered space and was one of the few players to show some fight. He's a cornerstone of this group moving forward.
Tattooed millionaires – Four years ago, Alexi Lalas made waves with his stinging (and spot-on) criticism of the United States national team as overpaid and perhaps a tad bit spoiled. Anything on display on Thursday night change that perception?
Outside of a few starters such as the aforementioned Adams and Tim Ream, the effort from the biggest names in the XI was lackluster. Qualifying is about grinding out results and few of the players looked like they wanted to be there and fight through for three points. At some point, there has to be a resolve to overcome in these situations. Perhaps the lesson was learned.
The United States national team was the big dog in the fight last night. Problem is, the other dog showed up ready for a scrap. The Yanks didn't.
Dest far from best – This could (and should) be a column in and of itself but simply put, Sergino Dest is a liability on the road at this point at either outside back position. Defensively, he had a difficult night and his movements forward were ill-timed, vacating way too much space and producing little in the way of positive end results.
He's not a left back. And given his lack of tactical and defensive acumen, he isn't currently shouldn't be a first choice right back for Berhalter either.
Yes, he's a regular for Barcelona, but with far fewer defensive responsibilities than he's asked to carry forth with the United States national team. He simply has struggled with the Americans over the past year and shouldn't be locked in as a starter on the road.
Time for a little positivity – Tim Ream's inclusion in the Starting XI was met with eye rolls by the usually patient and composed #USMNT Twitter (sarcasm alert). But Ream was tremendous and the unquestioned 'Man of the Match.' Defensively, he did everything right. And his distribution was the best of the backline.
Turner did fine – In his first World Cup qualifier, Matt Turner dusted off the expected early nerves and did quite well.
The answer isn't simply 'Pulisic' – While Christian Pulisic did not play (or travel) in El Salvador, the elixir to Berhalter's squad issues isn't simply the insertion of the Chelsea wunderkind in the next match. While Pulisic brings width and much needed attacking panache, there are deeper issues at play here.
Simply, the United States has the depth and talent to win this game. They didn't because of failed tactics and the inability of the Starting XI to adjust and then grind out a goal to secure all three points.
Here's to you Miles Robinson – Thrown into a tough spot, Robinson's first qualifier was solid. He won his aerial battles, did well in his duels and positionally was solid. Distribution was tidy if a bit pedestrian. He did all right.
And here's to you Antonee Robinson – His insertion midway through the second half helped the United States regain much-needed shape on their left side. The Fulham outside back should get the nod against Canada this week. He's grown exponentially over the past 18 months.
Sargent's rough go – OK, enough positivity. Can't have too much of that.
This was undoubtedly the worst match Josh Sargent has played for the United States national team. The Norwich City striker wasn't dangerous in the least bit in the final third and his hold-up play was poor.
That's a tough assessment (but fair). It also should be noted that it isn't typical of the usually industrious Sargent, who even when scoring brings work rate and good link-up play. That wasn't the case in El Salvador.
Now with that being said, Sargent can and should get the nod to start against Canada. This match was an outlier for him.
Pefok struggled too – In his 26 minutes as a second half substitute, Jordan Pefok was marginally worse than Sargent's disappointing performance.
He look ploddingly slow and failed to link up adequately while showing an extremely heavy first touch. In terms of pressing, he was out of sync and failed to create any true threat in his time on the field.
Pefok has potential for sure but he's been very uneven with the national team. Perhaps it is only a matter of time until Ricardo Pepi passes the Young Boys forward on the United States depth chart.
Some perspective now – So there was a lot of negativity here…or perhaps critiques. But this was a learning moment for the United States national team.
Gregg Berhalter has shown over this summer a willingness to learn and grow along with his young team. He needs them to be a bit more cynical and he, in turn, needs to be a bit less idealistic in how he wants them to play on the road.
This team is good enough to beat any team in CONCACAF, home or away. That's a fact. But this isn't a team that is so good that they can coast through to Qatar. That falls on Berhalter and is now his biggest test to date.
Also a dose of reality – If the United States plays Canada like they did in the Gold Cup, this team might not even secure a draw. Canada outplayed the Americans in that match and the United States was fortunate to win that match.
At home, the United States must be the aggressor. Canada will be hungry after their own disappointing draw to Honduras. Time for the United States to show up and fight. Once again they'll be the better team.
But will they want it more?