Sacramento Republic FC edges closer to MLS expansion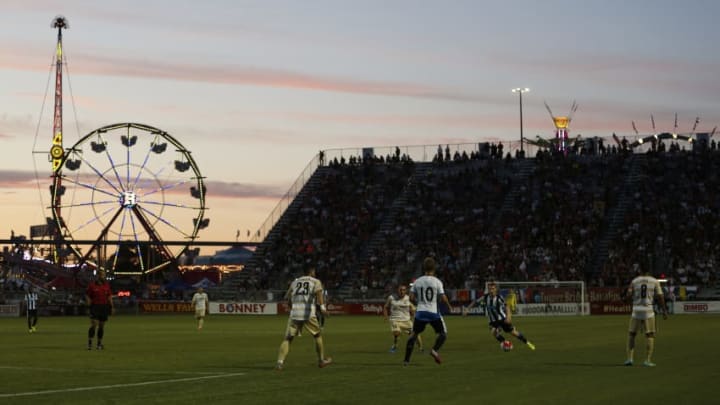 SACRAMENTO, CA - JULY 18: Jack Colback /
Sacramento Republic FC has neared completing its MLS expansion puzzle. It won't happen this week. But when it hits, it'll be quick.
When we last checked on the state of Sacramento Republic FC's bid for expansion, the biggest question was a simple one: Did Sacramento Republic FC have a top-tier lead investor?
Back in June, local media named Pittsburgh Penguins co-owner Ron Burkle as a top investor looking at making Sacramento the next MLS expansion team. Burkle looked over the new 20,000-seat stadium site and met with Sacramento Mayor Darrell Steinberg.
But he wasn't the only candidate for lead investor. Another group, led by Memphis Grizzlies forward Omri Casspi, originally a Sacramento Kings draftee, wants a shot to get this done. And they might not be the only ones.
More from MLS Multiplex
As 2019 dawned, Sacramento Republic FC looked closer than ever to resolving their lead investor question. And soon. The team, meanwhile, has also stayed in constant communication with the league on their progress.
Tied to the MLS expansion bid of Sacramento Republic FC is their involvement in World Cup 2026. The team's leadership represents the key in a complex system of hosting a base camp for one of the World Cup competitors. Elected officials and tourism leadership all joined in.
Base camps have become a vital element of World Cup tournaments. And this 2026 World Cup will be the biggest, with 48 teams in 80 matches. Base camps host the teams and fans for several days before and after their matches.
If assured MLS expansion, Sacramento Republic FC would have their new stadium ready by 2021, well ahead of the World Cup team and fans they host. They expect hundreds of new international visitors during the event.
The United Bid, combining the U.S., Canada and Mexico, won the event in the first-ever public vote of all 203 member nations. The vote went 134-65. The four bidding nations, Canada, Mexico, Morocco and the U.S., could not vote. The federations of Guam, Puerto Rico and the U.S. Virgin Islands recused themselves.
Team management does go on the record in commitment to continue to build Sacramento Republic FC into a preeminent soccer club. They finished the year steadily reporting improvements in the organization: new offices, new hires and new investments.
They started ringing in the New Year by announcing that Premier League defender Dekel Keinan would join the club for 2019, with an option for 2020.
In his end-of-year supporters letter, Sacramento Republic FC Chairman and CEO Kevin Nagle highlighted both their improved efforts, as well as the importance of their supporters' faithfulness while they do it. And before that, he said:
"Glory Glory Sacramento!"
He promised a wonderful 2019. And we know why. The lead investor is on their way.